MOTOR "UM" SERIES:FEATURES
Various Heads are interchangeable with Motor "UM" series for wider applications.

Stable rotation from low to high speed enables to apply to all sorts of working.
You are not tired with working because noise and vibration are controlled as low as possible.
3 typical models are provided for your choice according to speed and torque.
.
UM20 High Torque Type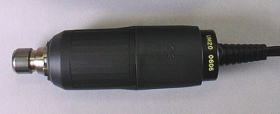 The most suitable for polishing required for low rotation speed but high torque.
Interchangeable heads
[UT01] [UT02] [UT03] [UT05] [UT06] [UT07 ][UT08] [UT11] [UT12] [UT15]
Specifications
Rotation speed : 800 – 8,000rpm
Max. torque : 900 g.cm (used with controller UC500C)
Weight : 175g (Curl cord is not included)
Size : diameter 31.6 x L98.3 mm
Accessories
Handpiece rest stand (KP90-101)
Carbon brush 2 pcs (PKE60-103)
.
UM23 Speed Type

The most suitable for grinding because of speed type motor.
Interchangeable heads
[UT01] [UT02] [UT03] [UT11] [UT12] [UT15]
Specifications
Rotation speed : 3,000 -30,000rpm
Max. torque : 650 g.cm (used with controller UC500C)
Weight : 175g (Curl cord is not included)
Size : diameter 31.6 x L98.3 mm
Accessories
Handpiece rest stand (KP90-101)
Carbon brush 2 pcs (PKE60-103)